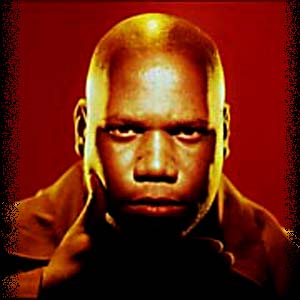 By 10 I had well and truly caught the bug and was spending every bit of my pocket money on soul and funk records. I got my first pair of decks (just the 2!) by the age of 15 and I started to play as many parties as I could, discovering that I could buzz off a crowd whilst funding my habit at the same time. As the 70's became the 80's I followed the musical trend from soul to disco to hip-hop but it wasn't really until I moved to Brighton in 1986 that I discovered, along with so many others, the pure thrill of acid house.
I can't remember a time without the strains of soul music drifting through our house. With both parents coming from Barbados I was brought up very much in tune with a natural party ethos that went hand in hand with a love of good music. My earliest musical memories are of Booker T and the MGs, Aretha Franklin and, of course the great Elvis, and I used to hijack my parents collection of 70's soul 45's and get the whole
family grooving round the lounge! I guess the early signs were there - my passion for music combined with an over-whelming desire to entertain as many people as possible.
So much has been said about one of the greatest DJs in the world. Carl Cox has excelled as a producer, artist, remixer, radio DJ, businessman, and ambassador for dance music. In the UK he is a full-blown 'Pop Star'. As anyone who has met him will attest, Carl Cox is the living embodiment of the perfect gentlemen, the DJ diplomat and progressive music pioneer.
Carl Cox began 1996 with the launch of his own record label, Worldwide Ultimatum, releasing his debut self-produced album 'At The End Of The Cliche'. This album was a culmination of influences gained from 18 years of the experience. It took over two years to complete ans stormed up the UK charts attaining a position of #22. In addition, he began his own management company, Ultimate Music Management, which has blossomed under his watchful eye and boasts a roster which includes such well-known DJ's as Josh Wink, Laurent Garnier and Judge Rules.
Carl Cox's achievements do not stop there. He has appeared on Top of the Pops and in 1996 was awarded the International Dance Award "Dj Of The Year" for the second year in a row. Muzik Magazine crowned him "DJ Of The Year" in their readers poll and he received "Best DJ Of The Year" accolades in Scotland, Ireland, France and Germany. He has graced the covers of England's biggest music magazines including Mixmag, Muzik, DJ and Wax. Cox also joined the prestigious team at London's Kiss FM radio station with his own "Ultimate Mix" show on Saturday nights and was awarded the "DJ Mixer Of The Year" by its listeners.
Carl Cox has rocked dance floors the world over and has conquered corners of the globe previously left untouched. Maintaining a constant tour schedule, playing throughout the UK and Europe, he recently mesmerized thousands in Israel, South Africa, Japan and Australia. Cox appeared at the legendary Love Parade (one of the world's largest raves) in Berlin playing to over 80,000 people. He is the featured DJ this year at T In The Park, and continues to play the UK's biggest clubs including Slam, Cream, Lakota and Minstry Of Sound.
Signing an exclusive deal with Moonshine Music here in the United States, this is the first time any of Carl's work has been available domestically. F.A.C.T. 2 is the follow-up to his highly successful F.A.C.T. which sold over 70,000 copies in the UK alone.